Foxy Women: Sexy, Sassy, Smart & Classy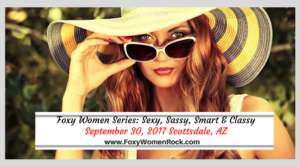 The Foxy Women series continues with our 2nd event titled Sexy, Sassy, Smart & Classy! This 1/2 day inspirational event for women is being held at the Marriott McDowell Mountain property in Scottsdale, AZ on Saturday Sept 30th. The event showcases expert speakers in the areas of health, relationship, self image, finance & communication who share tips for keeping business and lifestyle perceptions, reputation & outlooks classy. You can count on us addressing all parts of the title…Sexy, Sassy, Smart & of course Classy in an appropriate and useful way! ALL women will enjoy this event! It's unique, fresh & FUN!
If you choose, start your morning off right with a complimentary pre-conference ZUMBA session at 7:30 am on the dot! ZUMBA is an interactive energizing movement (I think of it as a combination of aerobic & dance – although you do NOT have to be good at either one of those to participate!). This activity is sponsored by Honor Health and in addition to being great exercise, knowing our ladies, it will also be great fun and full of laughter I am sure!
Next enjoy a healthy continental breakfast available from 8am – 9am (last time everyone raved about the unique options and how they appreciated that it was NOT the usual carb heavy continental!)
And then, there's plenty of time for SHOPPING with amazing vendors offering unique & fun products and services! They'll be available before and after the conference as well as on the break!
MAIN SESSION starts at 9am (and ends at 1pm) where you will receive insightful and illuminating information from our experts & enjoy powerful takeaways as well as plenty of giveaways and fun throughout!
It's a day you'll never forget! ALL ladies welcome! Come on your own (you're sure to meet some FABULOUS new friends here) OR, invite your favorite girlfriends or family! JOIN US for the entire morning or parts as you wish. The Foxy Women series of events will quickly become a favorite you add to your calendar!
♦♦♦ OUR SPEAKER LINE UP ♦♦♦
Dr. Shawna Eischens – Rockwood Natural Medicine Clinic on "Feeling Fabulous at Any Age" (Dr. E will touch on topics such as; hormonal balancing, libido, mental clarity & stability). She'll share smart ways to live a more balanced life and not only what causes some of the above issues but how we may naturally combat those to feel fabulous (and even sexy) at any age. Feel free to have your health questions ready for Dr. E to answer!
Jayd Hernandez – Relationship & Intimacy Consultant at The Center for Intuitive Development. Jayd shares her personal journey of embracing her femininity & inner truth and reminds us of the importance of self awareness & EMBRACING our own feminine power. Her story truly encompasses all of the traits of sexy, sassy, smart & classy and is very inspiring!
Nancy Kinnard – VP at National Bank of Arizona on Making Smart (and stress free) Financial Decisions. What are some sassy solutions to feeling more financially secure you ask? Well, Nancy provides some great tips! This topic of conversation ensures we are able to keep up the classy sort of lifestyle we desire throughout our years and stages of life.
Dr. Cie Scott, Ph.D., R.Sc.P. – renowned speaker and creator & host of The Goddess Code. Using universal principles from her Goddess Code series that apply to both single and married women, Dr. Cie discusses (in a very sassy way) how to attract and keep healthy relationships in our lives. Making smart decisions in relationships is easy when you know what to look for!
+ Lots of FUN & energizing giveaways, activities & announcements!
+ SHOPPING with unique vendors who have awesome items for Sexy, Sassy, Smart & Classy women!
You won't want to miss this event! It is unique, fun and a morning that truly fills your cup!!!
TICKETS ON SALE NOW!!! $99 per ticket – in advance is appreciated!
**Tickets are non-refundable and can not be used toward any other events. You may gift your ticket to a friend if you are unable to make it. In this case, please email [email protected] with the name change. Thank you!**
****For VENDOR opportunities, email [email protected]****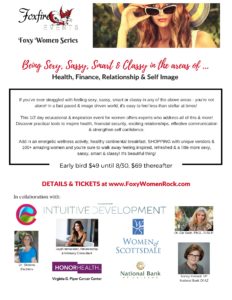 Some of our fun vendors include:
Honor Health/Tina's Treasures
Jean Laninga Portrait
Direct Cellars
Lifescape Premier
Lipsense by SeneGence
Balance Your Life
Arbonne
People' Mortgage
Nice and Bella
The Center for Intuitive Development
Origami Owl
India Hicks
Salazar Alfa Romeo
Candles by Janie
National Bank of Arizona
The Goddess Code
Green Living Magazine
Restyle Junkie