Having a Successful Vendor/Exhibitor Experience Workshop
Calling all current or prospective vendors & exhibitors!
Having a successful vendor/exhibitor experience is always the goal when signing up for space at an event.
Unfortunately, sometimes KEY things are missed to ensure you have the best experience possible! We'll teach you what to consider BEFORE investing your time & money in an event and what to do to enhance your experience during an event & post event as well! It's a relevant workshop designed to support your success!
ALL men & women are invited to attend!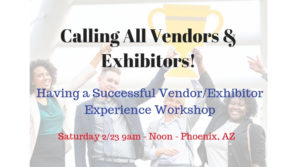 Having a Successful Vendor/Exhibitor Experience Workshop
Date: Saturday Feb 23rd 9am – Noon
$49 per person ($39 Fox Den AZ)
What You'll Learn:
– The #1 Thing Most Vendors Forget to do BEFORE committing to a booth (& it's CRITICAL!)
– Pre-Event: How to Research the Event, What to Ask the Organizers, Knowing if the Event is Right For You!
– Setting Up an Effective Display
– Engaging Your Demographic & Reaching Your Goal (sales, contacts, appointments)
– How to Effectively Network During an Expo Mixer
– Safety & Security: A Woman at a Co-Ed Conference, Expo, or Event
– Post Event: Effective Follow-Up
In addition to this great information that you can use over & over, you'll get to interact with peers and learn some "tricks of the trade" when it comes to successfully exhibiting at events. Magical things happen we have a group together like this! It's pretty cool!
All participants will be invited to give a 60 second commercial about their business as well as ask specific questions so they gain as much as possible at this valuable workshop.
Location: Our  Non-Profit Partner of the Year, OCJ Kids is allowing us use of their office space. They are in a GREAT location in North Phoenix (just off the 101 & 7th Ave) so super easy to get to! 
21630 N. 9th Ave Suite 103, Phoenix, AZ 85027
Bottled water will be provided. Feel free to bring a beverage of choice or snack for yourself if you wish.
**ALL tickets are non-refundable and can not be applied toward any other events. If you are unable to make the event, you are welcome to gift your ticket to a friend or colleague. In this case, please email the name change to Heather@FoxfireEventsRock.com – Thank you!!!**