Nourishing Spirit, Mind, Body 2018 Women's Conference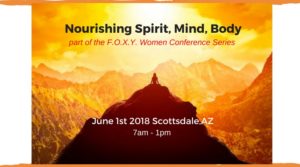 JOIN dynamic women who enthusiastically come together for education, inspiration & FUN at this half day annual event!
This conference attracts the BEST of the best! Our participants are women juggling family, career, philanthropy and impacting their communities in BIG ways! They're experienced enough to know that if they take time to nourish themselves, not only do they feel better, but they also have more to give! Surrounding themselves with women they can relate to, laugh with and be inspired by is incredibly valuable, and that's exactly what happens at this conference!
 Here's what you can expect the day of the event:
7:00am – Registration Opens – we can't wait to see YOU!
7:30am – (Optional) 30 min. Wellness Activity – this year our special guest facilitator is Kim Fisher of Diva Over 50 and she will be leading a "Morning Muscle Wake Up" on the beautiful nature trail surrounding the hotel. Bring a water bottle & towel and prepare yourself for a great day! ALL exercise levels are welcome!
8:00am – 9:00am – FULL breakfast buffet with lots of healthy options! PLUS time to shop with our unique vendors and mingle with your fellow attendees! You'll make some fabulous new connections!
9:00am – 1:00pm Main Session with INCREDIBLE SPEAKERS who focus on Spirit, Mind, Body and Intentional Living. They will share relevant information and provide useful tips and tools to apply to gain immediate results.
1:00pm More SHOPPING and time to connect with the amazing women you met at the conference!
Tickets: $79 per person at the door and includes; optional 30 minute wellness activity, FULL breakfast buffet, incredible speakers with relevant takeaways, a chance at designer giveaways throughout the program, a TON of fun and inspiration.
ALL WOMEN ARE WELCOME and we encourage you to bring your girlfriends, family, neighbors AND any younger ladies you know too! See the special offer below!
Discounted young ladies tickets are available for ages 13-20 for just $49 at the door. (21+ qualify for general price ticket)! Feel free to bring your daughters, nieces, or any young women you are mentoring! Encouraging young women to nourish their spirit, mind and body is a beautiful thing and a great skill to teach & model! PLUS, it's a FUN way to connect with each other!!!