F.O.X.Y. Women & Wine West October Event
F.O.X.Y. Women & Wine WEST!!!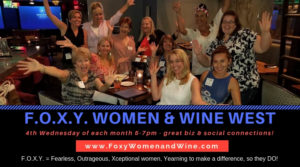 Join dynamic women in the west valley to network and be social! F.O.X.Y. stands for the type of women we attract! They are; Fearless, Outrageous, X-ceptional women, who Yearn to make a difference – and DO! They are the BEST of the BEST in their industries and communities!
We gather on the 4th Wednesday of each month from 5-7pm at a different local venue each month. Tickets are $25 for guests, $20 for Fox Den AZ members. To learn more about the Fox Den AZ and what it takes to become a member, visit www.FoxfireEventsRock.com/foxdenaz
ALL ladies are invited to JOIN US at these events! We are confident that when you do, you will continue to add this event onto your calendar! We look forward to meeting you!
This month we will be in the private room of Bottega Pizzeria in the Citadel located at 19420 N. 59th Ave.
Glendale, AZ 85308. You will love all that they offer and the connections you make here!
Get your tickets here online today!