F.O.X.Y. Women & Wine Scottsdale March 2020 Event
**PLEASE NOTE: Important UPDATE…
Hellllooo F.O.X.Y. friends! I'm SUPER EXCITED about something new we're trying for this event (Tuesday). Instead of meeting in person, we're going to ZOOM! That means you can connect, participate in GREAT conversations & raise a glass right from the comfort of your own home (and in your pj's if you like even!!!) I've been wanting to try this for a while and seems like NOW is the time, so let's give it a whirl! I think it's gonna be a BLAST!!! This is open to ALL LADIES just like our normal F.O.X.Y. Women & Wine events and this falls on the day for Scottsdale, and takes the place of that event this time! We'll see how we like it and then decide on more after that! For this 1st one, I just need you to private message me with your email address (by 3pm Tuesday) if you want in and I will email you back the log in info so you can join us online at 5pm. This one will be complimentary and limited to the 1st 25 people who contact me ([email protected])! SO HAPPY we get to connect in such a FUN way! Be sure to have your favorite beverage ready tomorrow when we connect for our group toast!!!
 Cheers F.O.X.Y. ladies!!!
JOIN US for F.O.X.Y. Women & Wine Scottsdale!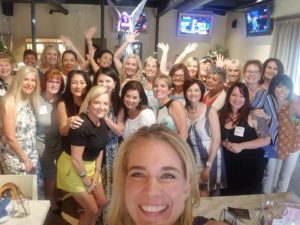 All women are invited to JOIN US!  Feel free to invite girlfriends too! We can't wait to see you there! Get your tickets here online and avoid the line at the door.
Expect to meet incredible women who understand the power of connecting and enjoy doing it in this casual environment. No memberships required, simply purchase a ticket and show up! ALL ladies invited!
F.O.X.Y. stands for the type of women attracted to our events; Fearless, Outrageous, X-ceptional women, Yearning to make a difference – so they DO! They are busy women who rock their industry and communities. They appreciate this 2 hours time to relate, laugh and connect with amazing women. As they do that, they find business organically happens too!
This month we are excited to try the ZOOM Online Platform!