F.O.X.Y. Women West September 2019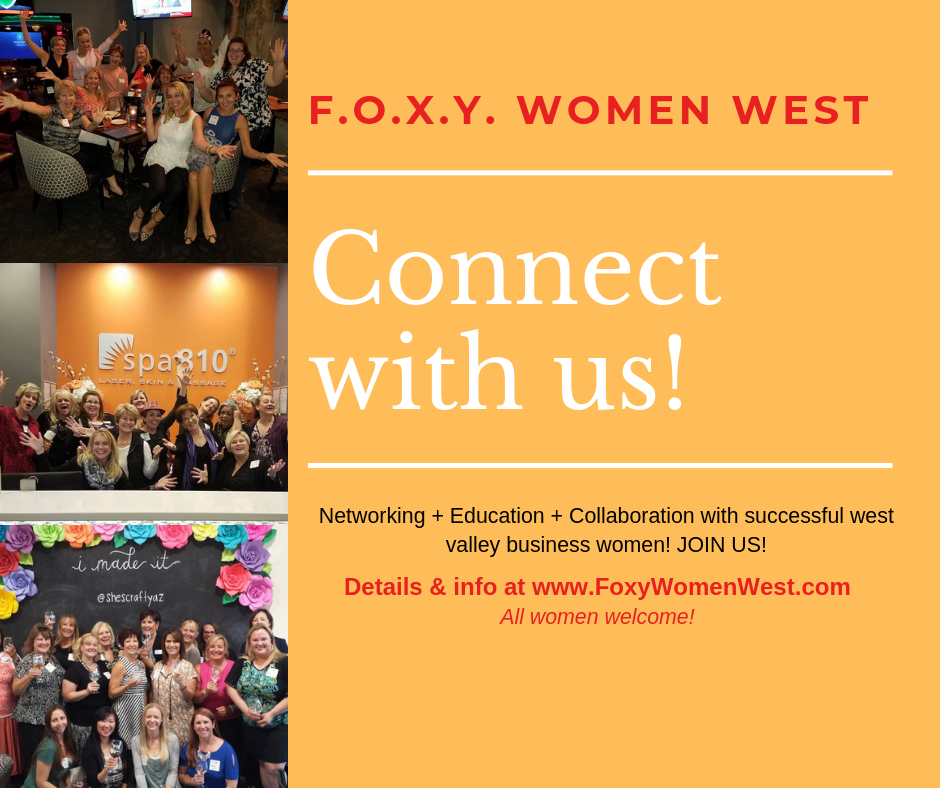 We are BUSY women juggling family, career, philanthropy, community & more. We are multi faceted, multi talented & multi-taskers!
We appreciate this event because we are able to network, create business & social relationships AND gain self care tips all in one!
F.O.X.Y. stands for the type of women we attract! They are; Fearless, Outrageous, X-ceptional women, who Yearn to make a difference – and DO! They are the BEST of the BEST in their industries and communities!
We gather on the 4th Wednesday of each month from 5-7pm at a different venue each time. We feature a speaker who takes 20 minutes to share self care tips that are always useful! You'll meet our sponsors & non-profit partner and the rest of the time is connecting with fellow guests!
Tickets are $25 for guests, $20 for Fox Den AZ members. Your ticket includes your evening of connections, the tips you takeaway & a chance at some great door prizes.
To learn more about the Fox Den AZ and what it takes to become a member, visit www.FoxfireEventsRock.com/foxdenaz
ALL ladies are invited to JOIN US at these events! We are confident that when you do, you will continue to add this event onto your calendar!
spa810 is graciously providing light bites and beverages for the group to enjoy as well! We love spa810!
JOIN US! Sept 25th 5-7pm!
at spa810 Arrowhead 7541 W. Bell Road Suite #102
Peoria, AZ 85382
This month we are excited to be hosted by spa810 Arrowhead! We've been here in the past and have always had a beautiful time! In addition to learning something fabulous related to skin health and various hot topics and trends in the industry, you'll have time to network with leading ladies who work & play in the west valley! We'll be hearing from spa810 professionals this month who will share with us some of the myths and truths about all the different treatments you are hearing about in their industry! It will be incredibly informative and you'll have time to ask questions and interact too! Plus, take a tour of spa810 while you're there so you can get a peek behind the scenes of their successful spa!
Feel free to invite your girlfriends and GET YOUR TICKETS HERE TODAY!!!