F.O.X.Y. Women & Wine West November 2019
Join us for F.O.X.Y. Women & Wine WEST!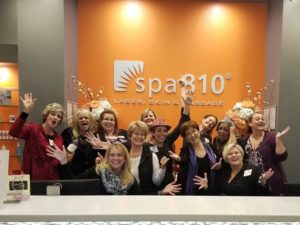 Connect to incredible business women who work or live in the west valley!
We gather each month from 5-7pm at a different venue each time.
We feature a speaker who takes 20 minutes to share something useful with us (we're BUSY women so we're always looking for time savers and the inside scoop!) + meet our sponsors & non-profit partner and CONNECT with fellow guests! We are GROWING this west valley event so there is LOTS of opportunities to grow with us & make INCREDIBLE connections!!!
Tickets are $25 (or $20 for Fox Den AZ members) and SO worth the fun & connections you will make here! Your tickets include light bites and a chance at great door prizes. Fixin to Eat is a BYOB establishment so feel free to bring wine if you like however please designate a driver if you plan to partake in adult beverages. We look forward to connecting with you!
Get tickets in advance RIGHT HERE…
*All tickets are non-refundable and can not be applied to any other events. If you are unable to make the event, you are welcome to gift your ticket to a friend. In this case, please email the name change to Heather@FoxfireEventsRock.com – Thank you!
Please note: Many of us will be arriving early to Fixin to Eat to take advantage of their meal prep services & have some fun prepping our meals as a group before the event starts & then take those meals home to fill our freezers. Everyone who has tried Fixin' to Eat has LOVED it!!! If you would like to join us and prep meals for yourself, please plan to arrive at 3:45pm and you MUST pre-order your meals by no later than 3pm the day before the event. To see their menu, learn more about Fixin to Eat and to order any meals you would like to prep that day (or any other day) visit https://www.fixintoeat.com/ when you order your meals online, please add a note that says you are with the FOXY group. We look forward to seeing you there! This is an optional early activity and not required to attend the F.O.X.Y. Women & Wine West event.
F.O.X.Y. stands for the type of women we attract! They are; Fearless, Outrageous, X-ceptional women, who Yearn to make a difference – and DO! They are the BEST of the BEST in their industries and communities!
We look forward to seeing YOU there! ALL ladies welcome!