Business Mastermind Monthly March 2021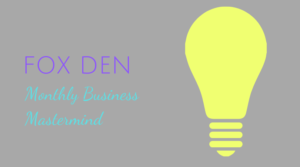 Join us online for 60 minutes of sharing business ideas, gaining insight, offering feedback and sharing suggestions to excel in business. ALL ladies are invited to join this fast paced and interactive conversation!
We encourage attendees to approach this event with an open mind and if YOU have a topic you would like input on related to your own business, please be prepared to share concisely what type of feedback you are seeking so we may be of the best assitance. This is a great place to ask for ideas to increase business, test a potential promotion idea, etc. Consider us your volunteer advisory council or mini board of directors in our time together!
GREAT ideas are cultivated here! Open to ALL women. FREE to Fox Den United Members, Non-Members = $20. All members and registered attendees will be sent the zoom log in link via email the Friday prior to the event. If you do not see it in your inbox, please check your other email folders. To learn how to become a Fox Den member or to purchase an individual ticket, visit www.FoxfireEventsRock.com/FoxDenUnited or email [email protected]. To buy individual tickets as a non-memer, please use the "Buy Now" button below.
**ALL tickets and membership are non-refundable. Individual tickets may not be applied to any other events. If you are unable to make an event, you are welcome to gift your ticket to a friend. In this case, please email the name change along with email address to [email protected] so they will be permitted into the zoom. Thank you!**