BEST Book Club Ever! February 2022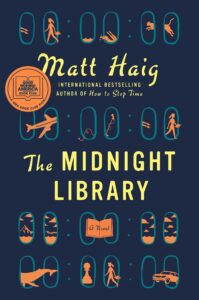 Join us for 60 minutes of engaging conversation on our latest read! This casual and fun group always has great conversations and laughter too!
Grab your favorite beverage and wrap up your Friday with us! We suggest reading the book prior to the ZOOM however if you didn't get a chance, still feel free to join us for great conversations and to learn about the book!
Friday February 25th at 4pm (AZ time)
This month's book is suggested by our awesome Book Club Ambassador Margaret Stephens-Reed. It is: Midnight Library by Matt Haig.
Learn more about the book…
The #1 New York Times bestselling WORLDWIDE phenomenon
Winner of the Goodreads Choice Award for Fiction | A Good Morning America Book Club Pick | Independent (London) Ten Best Books of the Year
"A feel-good book guaranteed to lift your spirits."—The Washington Post
The dazzling reader-favorite about the choices that go into a life well lived, from the acclaimed author of How To Stop Time and The Comfort Book.
Somewhere out beyond the edge of the universe there is a library that contains an infinite number of books, each one the story of another reality. One tells the story of your life as it is, along with another book for the other life you could have lived if you had made a different choice at any point in your life. While we all wonder how our lives might have been, what if you had the chance to go to the library and see for yourself? Would any of these other lives truly be better?
ZOOM link will automatically be sent to all members via email. Guests are invited to join as a guest of a member one time at no charge. Email
[email protected]
for information on how to join us!