Nourishing Spirit, Mind, Body 2019 Conference & Retreat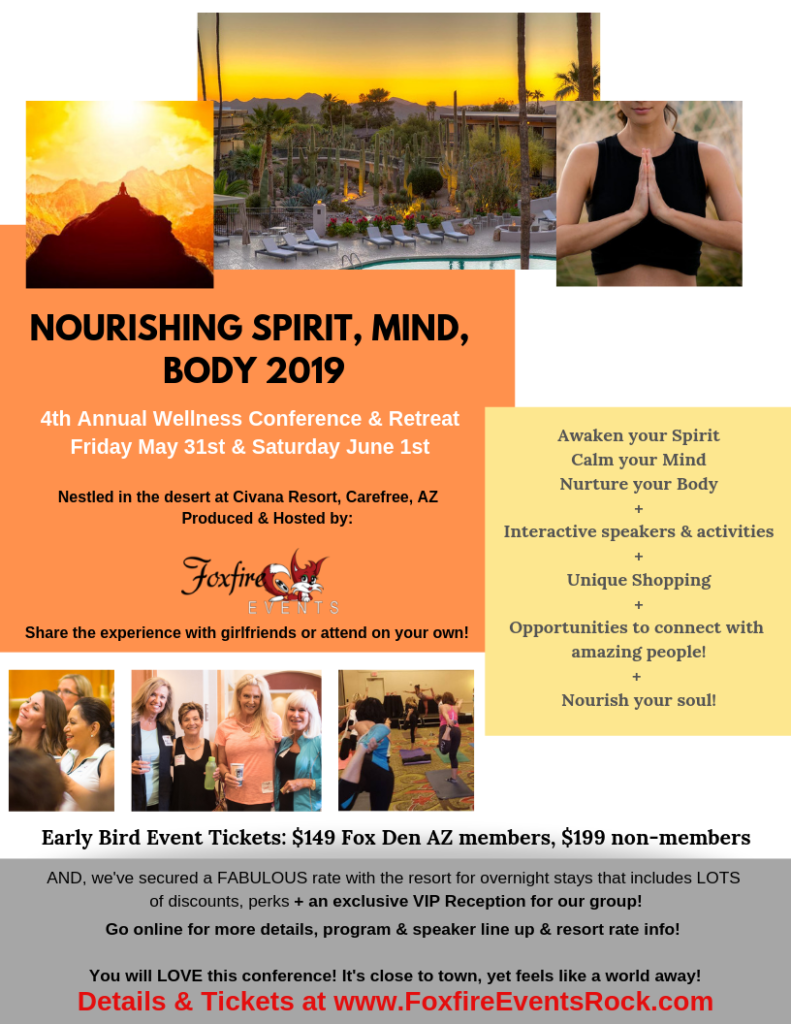 This highly attended event is sure to awaken your senses, calm your mind and fill your heart & soul! While learning useful tools from enlightening speakers, you will also interact with others who are inspiring and may even become new friends!
Interact with 8 phenomenal speakers, experience useful wellness activities, unique shopping and surround yourself with great people.
This is THE time to slow down and re-charge and the BEST place to do it right here in the desert! 
This 2 day event is one that you will absolutely LOVE and we think you'll add it to your calendar each and every year, just like we do! 
May 31st 1:00pm – 5:30pm Main Session + Special VIP Reception for our attendees staying at the hotel (consider staying!) 6:30 – 7:30pm
AND
Saturday June 1st 8:00am – 1:30pm
ADDITIONAL DETAILS:
Civana Resort is offering our group a phenomenal deal on sleeping rooms on Friday & Saturday night! It's only $109 per night single or double occupancy and they are waiving their $30 experience fee + giving us a 20% discount in the restaurant & 25% off 60 minute services in the spa (when booked 14 days or more in advance)! Whether you choose to stay 1 night or multiple, we encourage you to stay at the resort to fully immerse yourself in the beauty offered here AND it gives you an opportunity to connect & build relationships with the people & speakers you meet here! You deserve this break!
ALSO, ALL of our attendees who are also guests of the resort are automatically invited to attend our VIP Reception held Friday evening at no additional charge ($65 value). At the reception, spend quality time with our experts/speakers, mingle with fellow attendees, and enjoy hosted wine, beer, soda and street taco bar for 1 hour. It's a fabulous way to end the 1st day of the conference and get ready for day 2! After that, choose to it hit the lounge with new friends, take advantage of the resort pool & hot tub or head back to your room and enjoy & revel in all you learned from the day!
The resort also offers a wide array of wellness activities that resort guests may participate in as well as a discount at the restaurant on site and spa! To reserve your room online, follow the easy steps below or you may call the hotel directly at (480) 653-9000 to make your reservation. Be sure to ask for the Nourishing Spirit, Mind, Body Conference block to get our deal! It's the best one out there!
To reserve your resort room online:
Go to CivanaCarefree.com or CLICK HERE!
Click the "BOOK NOW" button in the upper right corner
Select your # of guests, appropriate dates AND click "ADVANCED SEARCH"
Where is says "Promo Code" use the drop down box to change that to "Group Code"
Enter the Group Code 053119NOUR then click "APPLY" then select your desired room type and complete your reservation! Please note: The "experience fee" of $30 per day will show on your reservation however when you check in to the hotel, they will waive that experience fee since you booked with our group code.
REMEMBER: Our registered attendees who are staying overnight at the hotel have complimentary access to the VIP Reception on Friday night (resort rooms are single or double occupancy). This is a $65 per person value.
All women & men are invited to attend the conference!
Ticket prices: $199 Early Bird for your entire conference (prices will go up soon so get them now!)
$149 for Fox Den AZ members Early Bird – for details on Fox Den AZ membership visit, www.FoxfireEventsRock.com/FoxDenAZ