FOX DEN UNITED
Where powerful women connect socially & for business!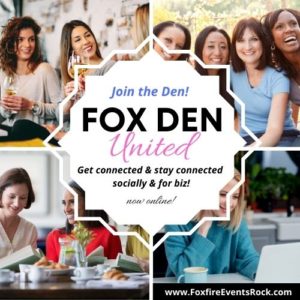 More

ABOUT

The Den!
Fox Den United is a diverse community of incredible women who come together for social interactions, business masterminding, education, inspiration and genuine connection. These types of interactions are SO VALUABLE! Being able to relate to other women keeps us sane and adds JOY to our already full lives! This powerhouse community of women UNITE from anywhere around the world thanks to our ability to connect via zoom! In addition to 4 monthly virtual events, there's a private Facebook group where you can interact, share and stay up to date on all that's happening in the F.O.X.Y. world! We've seen such beautiful friendships, business relationships & self nourishment happen through this community! AND, we get to forge new friendships with women internationally which is great fun when travelling – can you say, BEST local hot spot referrals!!!
Membership is ideal for women seeking strong social or business connection (OR BOTH!) & appreciate having access to all of the events from anywhere they happen to be! Whether you choose to join us for 1 or all events each month, the connection time is more valuable than you can even imagine and the membership rate is a steal!
JOIN US at any events as a non-member for $20 per event. OR, become a member and have access to all 4 events per month + special engagements for FREE. See current price and "Buy Now" button below to JOIN US! ALL ladies are welcome!
*****MEMBERSHIP DRIVE 2021*****

Become a member NOW

and get access to ALL the events for the remainder of the year for just $160! That's a savings of over $400 off the individual ticket prices with over 25 virtual events remaining in 2021! USE THE "Buy Now" button below or email Heather@FoxfireEventsRock.com to be invoiced!
GET CONNECTED, STAY CONNECTED THROUGH FOX DEN UNITED!
2021 Membership Includes Access to 4 Monthly Virtual Events: 
F.O.X.Y. Women & Wine Global – Connect with incredible women, share your business message and build relationships with dynamic and diverse women from your own backyard or potentially anywhere from around the world! These events are formated so that we have time together as a group and you will also have time in breakout rooms with small groups to network and have real conversation. This is about the funnest way you can network and build realtionships socially and for business. Tickets are $20 per event for non-members, FREE for members. 3rd Tuesday 5pm (AZ time) 60 minutes.
Monthly Business Mastermind – These are intensive fast paced sessions jam packed with great ideas and best practices. Gain feedback, do market research and/or brainstorm with fellow attendees. It's like having your own mini board of directors at your fingertips. These video chats are incredibly valuable – especially for all the business owners and soloprenuers out there! In 2021, these virtual meetings are scheduled for the 2nd Monday of each month at 9am (AZ time) for 60 minutes.
Coffee Connections – We love a good cup of java & the conversations we have online each month, all from the comfort of our own home or office! This is a great time to share updates personally & professionally, seek referrals and catch up through great conversation. These events are currently scheduled for the 3rd Friday of the month at 9am (AZ time) and last 60 minutes.

BEST Book Club Ever!

–  Our BOOK CLUB has become quite FUN & popular! Ladies are loving the books, great conversations & interactions. Read the suggested book and then show up online at the designated time and interact with us! Book Club Ambasaador Margaret Stephens-Reed leads these conversations and makes great book recommendations however if YOU have a fabulous read you'd like to share, we are all ears! These are scheduled for the last Friday of each month at 4pm (AZ time) for 60 minutes.
Private Facebook Group

– Members are invited to join our private

Fox Den United members Facebook group where you can interact, share any special events/offers or news and stay in touch! If you are on Facebook, we highly recommend engaging here!
Membership is open to ALL women! We encourage YOU to JOIN TODAY! You literally have an entire community of women right at your fingertips! Staying engaged makes all the difference in the world in how we feel and in staying ispired, motivated and happy!
Non-Members may attend any of the 4 monthly events for $20 per event OR BECOME A MEMBER TODAY! When you pay your membership in full, pay only $20 for each month! That means you get 4 events each month for the price of 1. Attend any or all that appeal to you! It's an INCREDIBLE VALUE!!! 
**ENROLL TODAY using the "buy now" button below or email Heather@FoxfireEventsRock.com if you would like to be invoiced!!!**
We look forward to seeing YOU at an event soon!
***SPECIAL MEMBERSHIP DRIVE*** Now – December 2021 Membership = $160 (gives you access to over 25 events still this year!) SUCH a VALUE!
*Memberships are non-refundable and non-transferable. For any questions, email Heather@FoxfireEventsRock.com
Pics from some of our past events: