FOX DEN AZ
2020 Membership is NORMALLY $339!
**SPECIAL** ENROLL in April or May for $199 & enjoy membership through the remainder of 2020!

An Inclusive Tribe of Dynamic Women building social connections & providing business support!
More

ABOUT

Fox Den AZ:
Fox Den AZ is a diverse community made up of incredible women who come together for social activities, business mastermind support, education, inspiration and incredible connections. In addition to connecting in person, there's a private Facebook group where you can interact, share and stay up to date on all that is happening in the F.O.X.Y. world! We've seen such beautiful friendships, business relationships & self nourishment happen through this community!
Membership is ideal for women seeking deeper social or business connection (OR BOTH!) AND for those who appreciate saving money since members receive great discounts on all the events hosted by Foxfire Events. ALL women are invited to join Fox Den AZ!
2020 Membership Includes: (as of March 2020 all of our meetings will be done virtually until further notice!)
Coffee Connections – Check out a local hot spot with us each quarter. We love our java & the conversations we have here! No charge for the event, just your cup o'joe (or whatever you decide to order)! Great social & networking time!
Monthly Business Mastermind Calls – 60 minutes once a month and a GREAT opportunity to interact, gain feedback, share best business practices and support from the group. It's like having your own mini board of directors at your fingertips. These calls are incredibly valuable – especially for all the business owners and soloprenuers out there!
"Ask the Expert!" Join us virtually via Zoom to learn about a business topic from an industry expert who will offer sound education that would normally involve a large consulting fee yet, is free to our members! Have the opportunity to ask individual questions to gain the answers you need to support your business! GREAT resources are discovered here! Some topics include; Social Media Marketing, Advertising Insider, Trademarks/Patents, Small Business Insurance Best Practices, Small Business Funding/Expansion Options and more!
FUN Outings lead by our F.O.X.Y. Leader or Ambassadors – You never know what will pop up on the calendar but it's sure to be a great time when your surrounded by this crew! We've had 3 new Ambassadors come on board for 2020 (meet them below!) They are planning things like;

hikes, food experiences (lunches, cooking classes & tastings) and a book club!

Activities are held in all parts of town and we don't mark up the cost to attend, in fact we often get group discounts when it is a ticketed event. It's always more fun to check out events & new places with a group of friends! *UPDATE* – Our BOOK CLUB has become quite FUN! The ladies are

loving

the books & interactions. We are meeting every other month to discuss the chosen book! JOIN US!
Private Facebook Group for Fox Den AZ members where you can interact, share any special events/offers or news and stay in touch!
ENJOY LOTS OF DISCOUNTS on ALL the events Foxfire Events hosts! Our Fox Den AZ members have access to over $300 in savings each year just on ticketed Foxfire Events alone! This includes discounts on F.O.X.Y. Women & Wine Phoenix and Scottsdale, F.O.X.Y. Women West, our Fall & Spring Launch events, Specialty Workshops, Diamonds in the Desert, Partner events and the Nourishing Spirit, Mind, Body Annual Retreat! It SAVES to be a Fox Den AZ member!!!
With nothing that you HAVE to do, but so much you GET to do, membership certainly has it's privileges! The most beautiful thing we see come from this community are the relationships. This group is diverse, unique and full of incredible women who enjoy relating & understand the power of human connection!
If you have room for more friendships, business awareness & support or Fun (OR ALL OF THE ABOVE) Fox Den AZ is YOUR tribe!
2020 Annual Membership is $339
**

SPECIAL

** ENROLL in April or May for $199 & enjoy membership through the remainder of 2020!
*Memberships are non-refundable and non-transferable. For any questions, email Heather@FoxfireEventsRock.com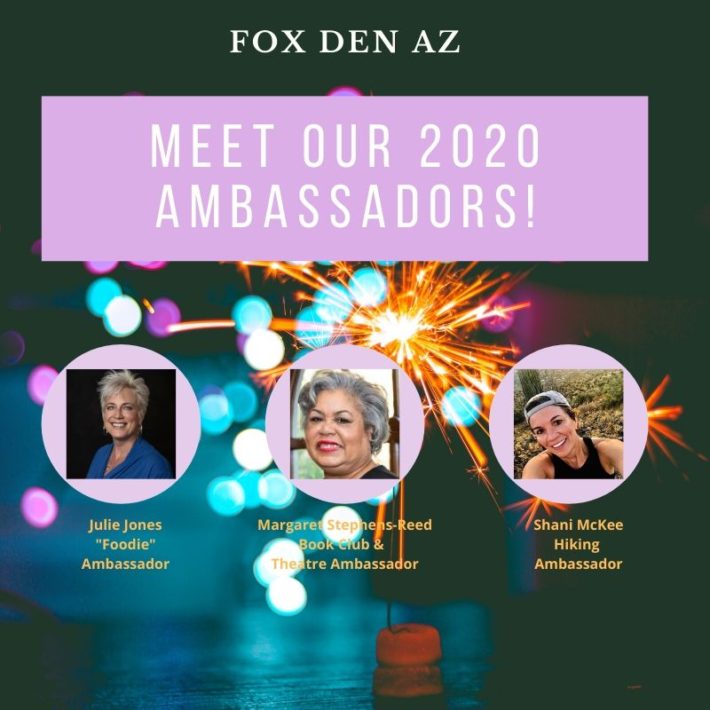 Pics from some of our past events: